DOING BUSINESS IN HONG KONG
December 16, 2020 @ 9:00 am

-

11:00 am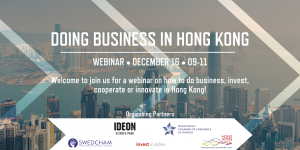 Welcome to join us for a webinar on how to do business, invest, cooperate or innovate in Hong Kong!
Hong Kong, with its 7.5 million inhabitants in Southeast Asia, is one of the megacities in the world. In addition to being a global financial hub and logistics center thanks to its high-ranking universities and science parks, it is also a center for research, innovation, and development within areas like robotics, life sciences, design, fintech, and other high-tech areas.
In recent years, the Guangdong-Hong Kong-Macao Bay Area Development (Greater Bay Area) also presented new opportunities for Hong Kong. The Greater Bay Area comprises the two Special Administrative Regions of Hong Kong and Macao now connected by a newly built bridge, and the nine municipalities of Guangzhou, Shenzhen, Zhuhai, Foshan, Huizhou, Dongguan, Zhongshan, Jiangmen, and Zhaoqing in Guangdong Province. At end of 2019, the total population of the Greater Bay Area is over 72 million, where the GDP is USD 1,679.5 billion and GDP per capita is USD 23,371.
Nine distinguished guests will be joining this webinar to give you in-depth and brand new information about Hong Kong and the Greater Bay Area with a strong focus on opportunities for Scandinavia. You will meet representatives from Swedish companies in Hong Kong and from key organizations and agencies in Hong Kong. Ample time will also be reserved for questions and answers.
Welcome!
/ Hong Kong Chamber of Commerce Sweden & Ideon Science Park
Program
Moderator Ms Torborg Chetkovich, Partner Capman Infrastructure, Chair HKCCSE
Opening Addess Hong Kong – A World City in the Greater Bay Area

HKETO London: Miss Winky So, Director-General
Fintech development and opportunities in Hong Kong:
King Leung, Head of Fintech , Invest Hong Kong.
The role of Hong Kong Science and Technology Parks:
Albert Wong, CEO, Hong Kong Science and Technology Parks
Business Climate in Hong Kong
Business Climate Survey:
Johan Lennefalk, Office Manager, Business Sweden
Christian Bergenstråhle, General Manager, Swedish Chamber of Commerce in Hong Kong
Doing Business in Hong Kong, Experiences and Advice from Three Companies

Frost LTD: Peter Luxemburg, CEO and Founder

Manyone: Katarina Ivarsson, Managing Director Asia and Partner
Scania Hong Kong and Greater Bay Aarea: Carl-Fredrik Zachrisson, Regional Director Scania China South Region and Managing Director Scania Hong Kong Ltd.
The Nordic Innovation House in Hong Kong
NIH and The Greater Bay Area:
Binh Johansson, Director, The Nordic Innovation House in Hong Kong
Closing Remarks

Mr Per Augustsson, Consul General, The Swedish Consulate General
Questions & AnsweraYou are most welcome to send your questions by email in advance to: Mr Bengt Streijffert bengt.streijffert@food.lth.se or by using the Q&A function during the webinar.