Most of us in Sweden have heard of 3 (Tre) mobile operator. But did you know that the mother company of Tre mobile, CK Hutchison, is actually a Hong Kong founded company?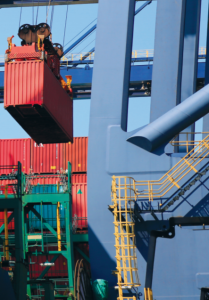 CK Hutchison Holdings Limited (CK Hutchison) is a multinational conglomerate which employs over 300,000 people in about 50 countries across the world.  With roots in Hong Kong in the 1800's, CK Hutchison's operations now span the globe. CK Hutchison reported turnover of approximately HKD440 billion (USD56 billion) for the year ended 31 December 2019. Their business ranges from some of the world's biggest port operators and retailers, to infrastructure companies including energy company and mobile multimedia telecommunication networks.
Hutchison Ports is the world's leading port investor, developer and operator. The Hutchison Ports network of port operations comprises 52 ports spanning 27 countries throughout Asia, the Middle East, Africa, Europe, the Americas and Australasia.  Hutchison Ports starts its operation in Norvik, south of Stockholm, this month. We have interviewed Lawrence Yam, the CEO of Hutchison Ports Stockholm and Head of Commercial Hutchison Ports Europe to find out more about this exciting development.
Why did Hutchison Port choose to open in Sweden and also why Stockholm?
Hutchison Ports is already a terminal operator in Sweden and has operated the Container Terminal Frihamnen (CTF) in Stockholm since 2009. In 2017 Hutchison Ports signed a formal agreement with Ports of Stockholm to operate the new container terminal in Norvik. The Stockholm area generates 45% of Swedish GDP and Hutchison Ports Stockholm plays a key role in supporting Sweden's largest market. We have handled more than 60,000TEU (Twenty foot equivalent units, a universal measurement in container shipping equating to one standard container) in CTF in 2019.
We learned that the official opening of Hutchison Port will be in May.  Can you tell us more about it? Has the opening been affected by the outbreak the Corona pandemic?
Currently we are testing our equipment and training our drivers.  Everything we need to operate our terminal is available and we see a progress every day. From May onwards, we will transfer the current operations we offer in CTF to our new container terminal in Norvik. After we have transferred all services, the CTF terminal will be closed down. We are very much looking forward to welcoming our customers to our new terminal.
Since travelling has been restricted by the global Corona pandemic, we have made good use of technology to conduct meetings with our customers, suppliers and colleagues.  It turns out to be both efficient and effective. When the global supply chain is impacted, we also experience some delay to some of the equipment we needed. Fortunately, they were not critical and we were able to work around it and come up with other solutions. I think we experience the same challenges as everyone does for the moment.
The new terminal opened in late May. There were a few weeks delay, but we were able to open on the same month as planned. We want to provide a reliable, safe and efficient operations to our customers from the start.
What is the capacity of the port?
Our terminal area is 25 ha with a quay length of 450 meters. In our business the capacity of a container terminal is also measured in TEU. We have a capacity of 250,000 TEU in the first phase. We do have the possibility to increase our capacity to 500,000 TEU in a second phase (32ha and 800 meters quay length).
How would Hutchison Port impact trading between Sweden and other countries?
As the only deep-water container facility on the East Coast of Sweden, this terminal will deliver both economic and environmental benefits by reducing overland transport, bringing ships and cargo closer to the country's largest market.  Also, the connection between the Baltic countries and Sweden will be better due to shorter turnaround times of vessels.
I know Hutchison Port owns other ports around the world. Any special about Hutchison Port Stockholm?
For Hutchison Ports this is the only terminal we have in Scandinavia. We are very proud to offer a worldwide service to our customers. On the technical side, this terminal will be the first terminal for Hutchison Ports that will work with automated straddle carriers.  So while we now benefit from technical input and expertise from across our worldwide network we will soon be feeding back into that network as well.
I understand you are originally from Hong Kong and have lived in other countries. What other countries have you lived in and how does working in Sweden differ from other countries you have worked and lived in?
I've been lucky enough to have had the opportunity to live in Northern China, U.S. and UK before coming to Sweden. They all are very good places and we feel grateful that we have the chance to experience the life in these countries.
Everybody speaks English in Sweden, that makes working life so much easier. Still I think it would be good if I could understand and speak Swedish in daily life. I look forward to understand the culture more.  People are committed and very humble, that helps to create a very good team and is certainly a plus. On the other hand, the 4 weeks summer holidays are quite new to me. It took a little while to make it work, particularly for projects involving suppliers and colleagues from different parts of the world. Carefully planning of resources and schedules is needed.
How is your experience working and living in Sweden so far? 
The experience has been great, I have a very good team supporting me! Stockholm is a big city and you could easily have a vibrant life, while you can also easily go to the forest and the lakes to taste the natural environment.