Update on Hong Kong's Current Economic and Trade Situation
Earlier this summer the Federation of Hong Kong Business Associations Worldwide, invited Hong Kong business associations from all around Europe to update on the current economic and trade situation in Hong Kong SAR. Hong Kong Chamber of Commerce in Sweden was present and here comes a report from the meeting. The source is HKTDC, Hong Kong Trade Development Council.
Hong Kong's current economic situation
The GDP growth in Hong Kong stays at a stable rate at 3%, but the US-China trade war is affecting the trade also between Hong Kong and the US. From an increase in merchandise trade during 2018 of ca 8%, the first quarter of 2019 shows a decrease of nearly 3%.  Merchandise trade with Europe has not seen any dramatic changes. Another important income area for Hong Kong is foreign visitors and last year 65 million people visited Hong Kong, whereof the vast majority came from Mainland China, which is also the group of visitors that increases most, while the number of European visitors is declining since the same period last year.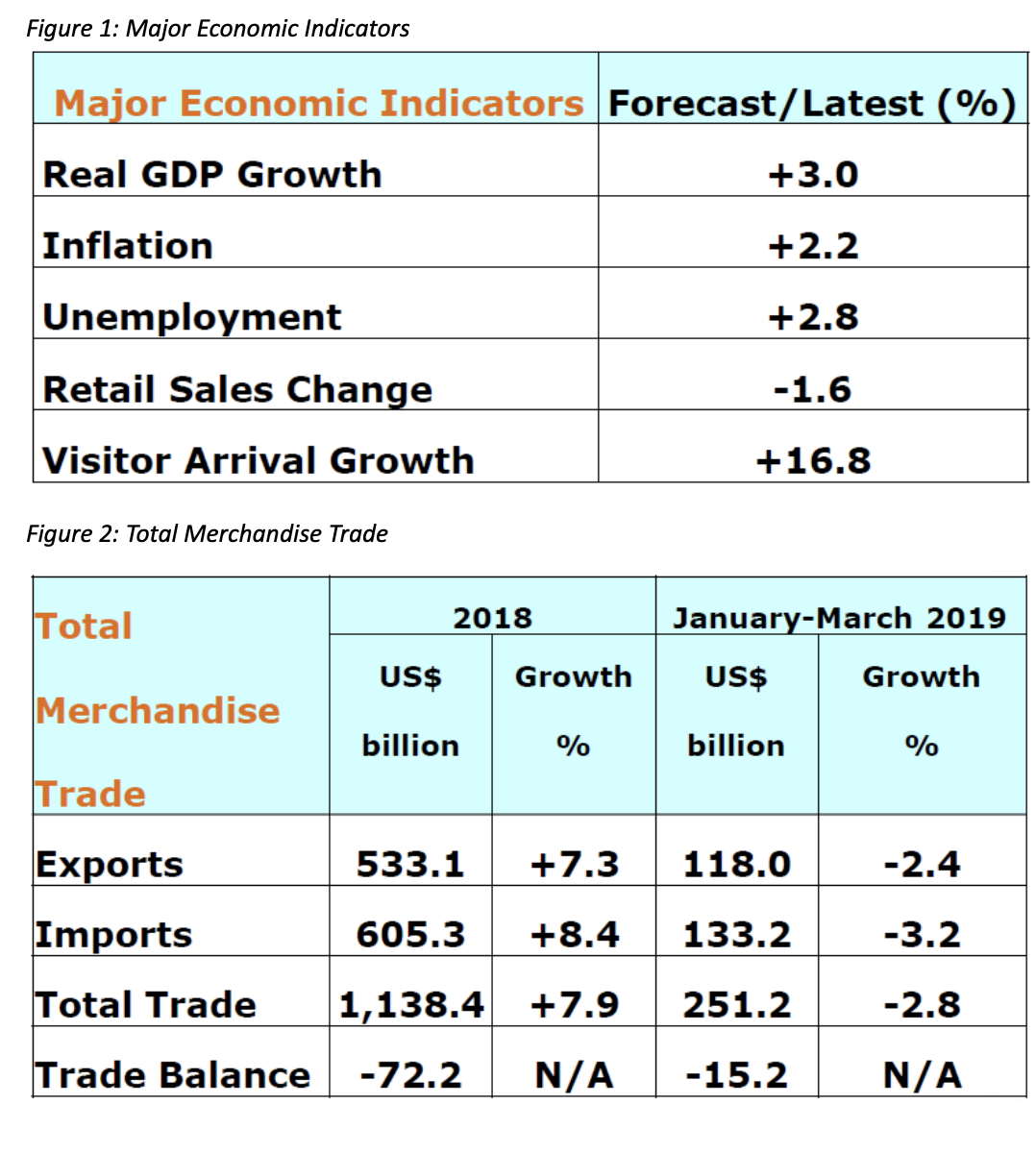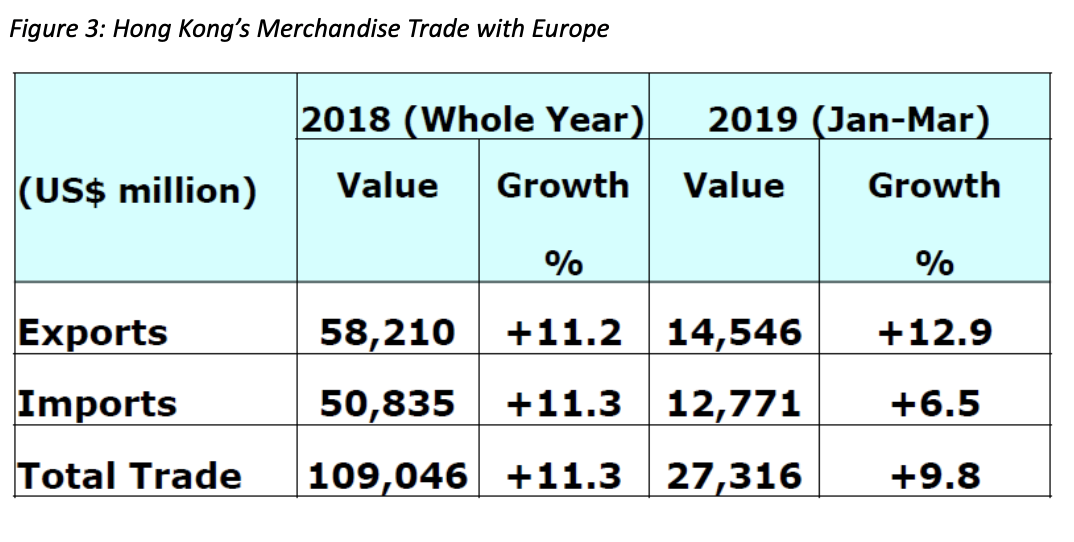 Major Government Policies 2019/2020 – Striving Ahead – Rekindling Hope
Major Hong Kong Government policies presented for 2019/20 to boost growth are for example:
EUR 228 million funding scheme to expedite re-industrialization

Land reclamation project for constructing artificial islands with a total area of about 1,700 hectares starting in 2025. Those who participated in our delegation trip to Hong Kong last December had an overview of this gigantic and sci-fi-like project that now seems to have some clearer contours. The islands are to be located east of Lantau.

Issuing the first batch of government green bonds to promote the development of green finance

EUR 627 million investment for the development of Cyberport 5 to accommodate more tech companies and start-ups

EUR 1.1 billion to establish two innovative clusters in Science Park focusing on healthcare, AI and robotics
Updates on Belt & Road Initiative (BRI) and Greater Bay Area (GBA)
The countries within the EU don't have a common view on the Belt & Road Initiative. In some countries, the government is positive towards Chinese investments. Italy is in the forefront and has signed a memorandum of understanding with China to take part in the Belt & Road Initiative trade project. Other countries such as Germany and to some extent also the Nordic countries have decreasing confidence for China's economic and political reforms and as a consequence on Chinese investments.
The Hong Kong SAR Government do a lot of investments in GBA, also to attract foreign investments, and the economic impact of the GBA is impressive as seen in the figure below. The opportunities for European enterprises include business areas such as Green Technology, Healthcare, Infrastructure and logistics, Financial services and Lifestyle products and services. The presence of Nordic collaboration with GBA is today very limited compared to other European countries, and Nordic collaboration is according to HKTDC restricted to Green Technology in Shenzhen.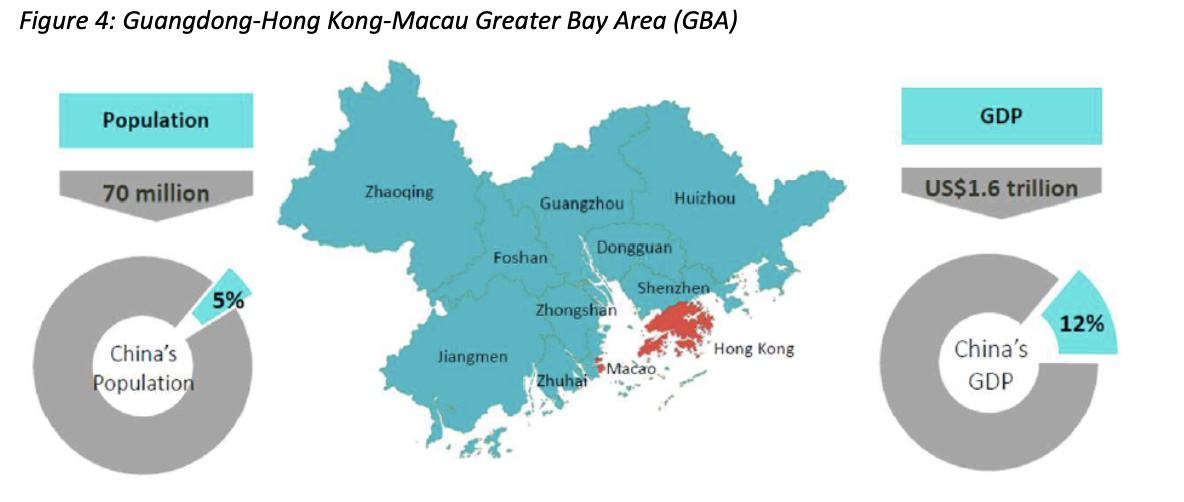 HKTDC's New Initiatives Targeting Europe
HKTDC regularly arranges seminars and summits to highlight BRI and GBA opportunities for foreign enterprises, and next years' Asian Financial Forum January 13-14, 2020, offers a side visit to a GBA city to explore new financial and business opportunities. See hktdc.com for updated information.
For a first-hand update of the current business environment in Hong Kong and for expanding and connecting business networks, members of Hong Kong Chamber of Commerce in Sweden are always invited to the Hong Kong Forum. The 20th Forum takes place on December 3-4. This year there will also be a side trip to Dongguan and Foshan (December 5-7) including meetings with senior government officials, visits to enterprises in the area and networking receptions. There's an array of interesting topics including AI, Digital Culture, Creativity & Innovation, Arising Opportunities from GBA etc to explore. HKTDC trade fairs that take place during the Hong Kong forum are for SmartBiz Expo, and Design Inspire. For more information, https://www.hkfederation.org.hk/hkforum.
Åsa Elm
Vice-chairperson HKCCSE