At a breakfast seminar arranged by Hong Kong Chamber of Commerce in Sweden two prominent speakers invited us behind the scenes to explore hidden hubs for creativity, i.e. shop windows and metro systems.
Cilla Winbladh, CEO JoAnn Tan Studio AB
,
presented several cases how to combine commercial focus with art and craftsmanship. With the product in focus, from denim jeans to jewelry and haute couture, she showcased impressive pieces of art aimed for shop windows and ending up being sold at Bukowskis market.
Andrew Mead, chief architect at MTR Corporation 
responsible for the art program in the Hong Kong metro system.  He told us about how the art is incorporated in the public transport system in order to enhance the travel experience, but also as a means to connect and build relationships with

the nearby area and the people living in the neighborhood.

The

art is also designed to direct and help passenger flows.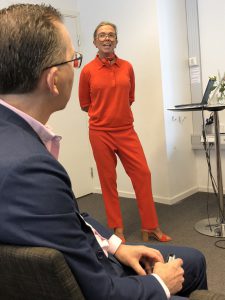 Cilla Winbladh
Look out for coming events at https://www.hongkong.se/events/